Mouse Anti-Collagen XI Antibody (L10D9)
Affinity purified mouse monoclonal anti-collagen XI antibody clone L10D9 in PBS, sterile filtered (0.2 µm)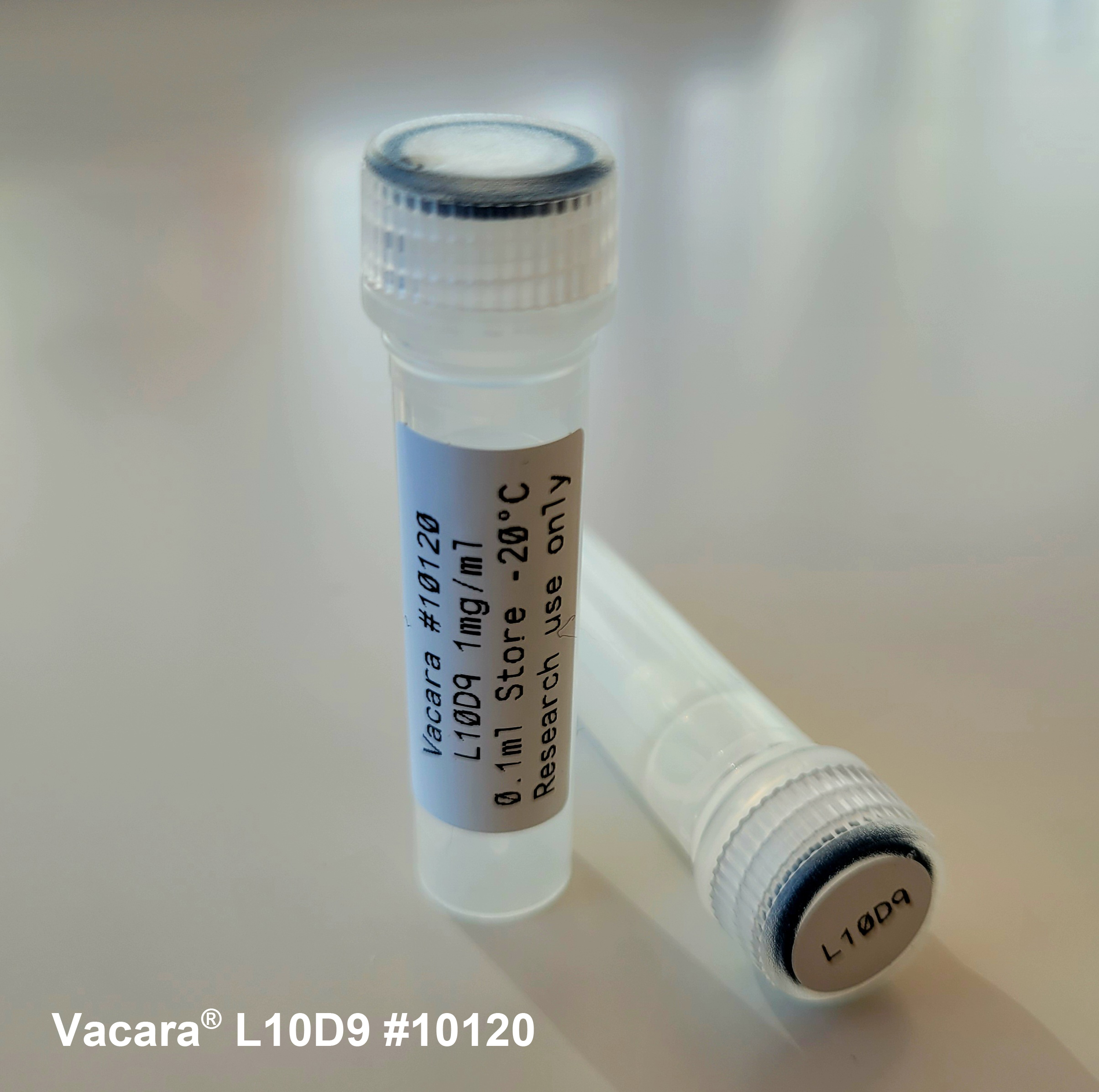 100µg / 0.1mL 200 €

1 mg / 1mL 1000 €
Price is excluding shipping cost. The shipping cost will be added on.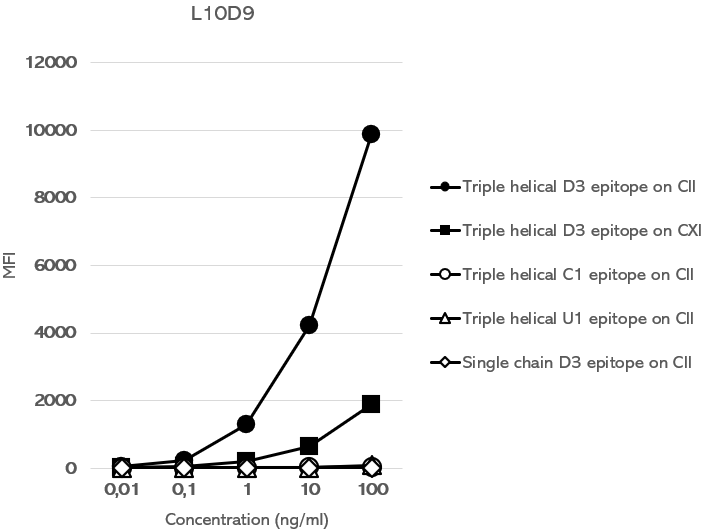 L10D9 binds to the triple helical D3 epitope on collagen. Binding to collagen epitopes was determined in bead-based flow immunoassay as mean fluorescence intensity (MFI).

Description
Affinity purified mouse monoclonal anti-collagen XI antibody clone L10D9 in PBS, sterile filtered (20 µm). The antibody L10D9 binds to the triple helical D3 epitope on collagen XI; an epitope that is shared with Collagen type II1. The antibody L10D9 antibody binds to both CXI and CII equally strong, with a specific binding for the D3 epitope region of the COL2A1 chain1.
The antibody L10D9 can be used for immunoassay techniques such as ELISA1, immunohistochemistry (IHC)1, bead-based multiplex immunoassays1, Western blot1 and in vivo functional assays2.
Target with alternative names
Collagen XI, CXI, collagen type XI, collagen type 11
Immunogen
Bovine Collagen XI (bCXI)1
Species reactivity
Mouse, human
Isotype
Mouse IgG2b, κ
Cross-reactivity
Collagen type II (COL2A1)1
Concentration
1 mg/ml
Supplied in
PBS
Storage
Centrifuge briefly prior to opening vial. Store at +4°C short term (1-2 weeks). Aliquot and store at ‑20°C long term. Avoid repeated freeze/thaw cycles.
Recommended dilution
It is recommended the user determines the optimal dilution for their application. The typical starting working dilutions are: IHC 1:100, ELISA 1:200 - 1:500.
For Research Use Only. Not for use in diagnostic procedures.
Not for resale without express authorization.
References
1. Tong D, Lönnblom E, Yau ACY, Nandakumar KS, Liang B, Ge C, Viljanen J, Li L, Bãlan M, Klareskog L, Chagin AS, Gjertsson I, Kihlberg J, Zhao M, Holmdahl R. A Shared Epitope of Collagen Type XI and Type II Is Recognized by Pathogenic Antibodies in Mice and Humans with Arthritis. Front Immunol. 2018 Apr 12;9:451. PMID: 29706949.
2. Li Y, Tong D, Liang P, Lönnblom E, Viljanen J, Xu B, Nandakumar KS, Holmdahl R. Cartilage-binding antibodies initiate joint inflammation and promote chronic erosive arthritis. Arthritis Res Ther. 2020 May 24;22(1):120. PMID: 32448385.