Mouse Anti-citrullinated COL2A1 Antibody (ACC1)
Affinity purified mouse monoclonal anti- citrullinated collagen type II antibody clone ACC1 in PBS, sterile filtered (0.2 µm)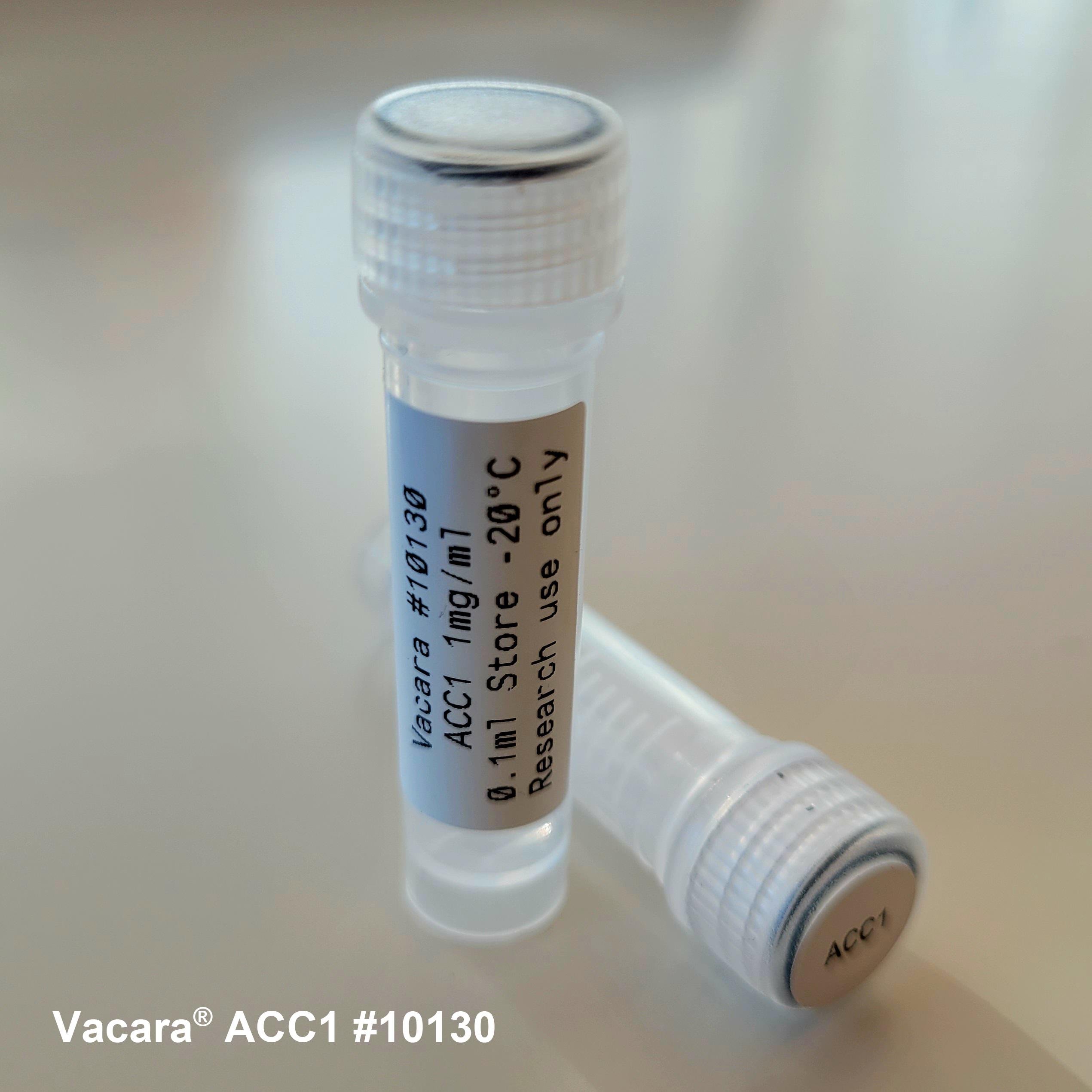 100µg / 0.1mL 200 €

1 mg / 1mL 1000 €
Price is excluding shipping cost. The shipping cost will be added on.
ACC1 specificity to be updated
Description
Affinity purified mouse monoclonal anti collagen II (COL2A1) antibody clone ACC1 in PBS, sterile filtered (0.2 µm). The antibody binds to the citrullinated triple helical collagen type II (CII) epitope (position 359-369; ARGLTGRPGDA)1, the C1 epitope. The ACC1 antibody recognizes the second citrulline at position 365 in mouse CII1. The antibody binds to flexible triple-helical CII determinants as well as many citrullinated CII peptides and was found to cross-react with several non-citrullinated epitopes on native CII2. The antibody has been used in applications including ELISA1,2, immuno­histochemistry (IHC)1 and bead-based multiplex immunoassays2.
Target with alternative names: COL2A1, Collagen alpha-1(II) chain, CII, Col II, citrullinated CII; citrullinated Col II; citrullinated proteins. UniProt: P28481.
Immunogen: Bovine Collagen type II 1
Species reactivity: Mouse, human
Isotype: Mouse IgG2a, κ
Specificity: ACC1 antibody binds the citrullinated C1 epitope. The ACC1 antibody cross-reacts with triple-helical epitopes on CII, but not with other collagens or the proteins tested in Ge et al2, except for a few citrullinated peptides.2
Concentration: 1 mg/ml
Supplied in: PBS
Storage: Centrifuge briefly prior to opening vial. Store at +4°C short term (1-2 weeks). Aliquot and store at -‑20°C long term. Avoid repeated freeze/thaw cycles.
Recommended dilution: It is recommended the user determines the optimal dilution for their application. The typical starting working dilutions are: IHC 1:100, ELISA 1:200 - 1:500.
For Research Use Only. Not for use in diagnostic procedures.
Not for resale without express authorization.
References
1. Uysal H, Bockermann R, Nandakumar KS, Sehnert B, Bajtner E, Engström A, Serre G, Burkhardt H, Thunnissen MM, Holmdahl R. Structure and pathogenicity of antibodies specific for citrullinated collagen type II in experimental arthritis. J Exp Med. 2009 Feb 16;206(2):449-62. PMID: 19204106.
2. Ge C, Tong D, Liang B, Lönnblom E, Schneider N, Hagert C, Viljanen J, Ayoglu B, Stawikowska R, Nilsson P, Fields GB, Skogh T, Kastbom A, Kihlberg J, Burkhardt H, Dobritzsch D, Holmdahl R. Anti-citrullinated protein antibodies cause arthritis by cross-reactivity to joint cartilage. JCI Insight. 2017 Jul 6;2(13):e93688. PMID: 28679953.