Mouse Anti- Cartilage Oligomeric Matrix Protein Antibody (16B5)
Affinity purified mouse monoclonal anti-collagen XI antibody clone L10D9 in PBS, sterile filtered (0.2 µm)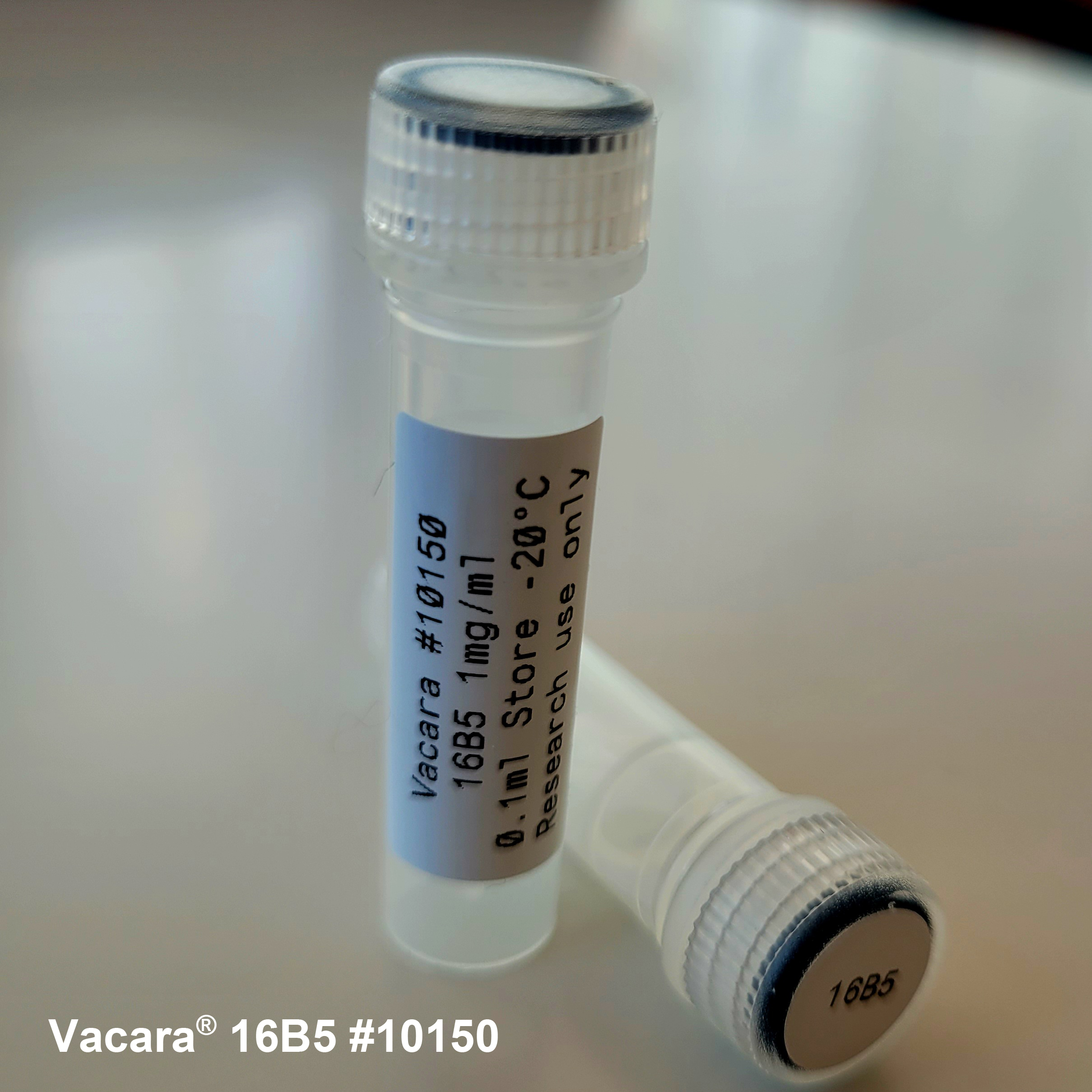 100µg / 0.1mL 200 €

1 mg / 1mL 1000 €
Price is excluding shipping cost. The shipping cost will be added on.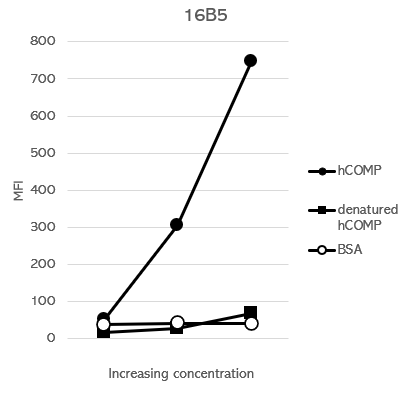 16B5 binds to COMP (hCOMP, recombinant human COMP) but not to denatured COMP. Binding was determined in bead-based flow immunoassay as median fluorescence intensity (MFI). Bovine serum albumin (BSA) was used as the negative control.

Description
Affinity purified mouse monoclonal Anti- Cartilage Oligomeric Matrix Protein (COMP) antibody clone 16B5 in PBS, sterile filtered (0.2 µm). The 16B5 antibody binds to the coiled-coil domain or pentamer COMP1. This antibody has been used in applications including immunohistochemistry (IHC)1 and ELISA1,2.
Target with alternative names
Cartilage Oligomeric Matrix Protein; COMP;
UniProt Q9R0G6
Rat Cartilage Oligomeric Matrix Protein1
Species reactivity
Rat, mouse, human1
Isotype
Mouse IgG1, κ
Concentration
1mg/ml
Sizes available
100µg and 1mg
Supplied in
PBS
Storage
Centrifuge briefly prior to opening the vial. Store at +4°C short term (1-2 weeks). Aliquot and store at ‑20°C long term. Avoid repeated freeze/thaw cycles.
It is recommended the user determines the optimal dilution for their application. The typical starting working dilutions are: IHC 1:100, ELISA 1:200-1:500.
For Research Use Only. Not for use in diagnostic procedures.
Not for resale without express authorization.
References
1. Geng H, Nandakumar KS, Pramhed A, Aspberg A, Mattsson R, Holmdahl R. Cartilage oligomeric matrix protein specific antibodies are pathogenic. Arthritis Res Ther. 2012 Aug 20;14(4):R191. PMID: 22906101.
2. Geng H, Nandakumar KS, Xiong L, Jie R, Dong J, Holmdahl R. Incomplete B cell tolerance to cartilage oligomeric matrix protein in mice. Arthritis Rheum. 2013 Sep;65(9):2301-9. PMID: 23754310.